The last few years have seen some great new additions to the Sydney hotel scene. From eco friendly designer boutique hotels to international luxury brands making their mark in Australia for the first time, we now have even more memorable ways to stay.
Along with the new Sydney hotels that are opening in 2023, we're sharing some of the best new additions from the last couple of years for those who haven't been back to the harbour city for a wee while.
Ready to see where you could be checking in next? Let's go…
ADGE Hotel + Residences, Surry Hills
"I can see you wearing my hotel carpet and looking fabulous in it." As soon as I stepped into my room at ADGE Hotel + Residences I was sending that message with a photo to my friend Athena and seeing her rocking this pattern oh so clearly. Inspired by the Italian fashion houses of the 1950s and '60s the rooms are packed with personality, and the style love continues in the hallways which look like they've sprung out of a tattoo studio and the industrial lobby with pops of colours in fun chairs.
The ADGE is on Riley Street, Surry Hills, a street I used to live on in my early Sydney days and is next door to an old hotel I've stayed in too. The Cambridge Hotel that I knew is currently undergoing a massive overhaul before it becomes part of the $65 million ADGE upgrade. When the renovations are complete, the two sections will share the communal lobby and there'll be 242 rooms to choose from, but for now there are 93, including the one I called home for the night, 501.
My room has a pod bathroom that you can see out of but not into, and other welcome details including Smeg fridges, smart TVs, and windows that open for fresh air as well as the air con option on hot Sydney days and nights.
There are two ways to dine at ADGE. Sydney's smallest Japanese restaurant, Raida Noda's Chef Kitchen, and Korean inspired dishes from the acclaimed Soul Deli. While the fine dining Japanese is more of a special treat, Soul Deli is a great way to start the day and a cafe I'll be coming back to even when I'm not sleeping upstairs.
202 Elizabeth, Surry Hills
Despite being a former Surry Hills resident, and despite the hotel's name being its address, I'll admit I couldn't quite figure out where 202 Elizabeth was before I went to stay. Turns out the doorway to 202 Elizabeth is a blink and you miss it affair, but from the moment I walked through that door I knew I was in the right place.
202 Elizabeth is a 38-room boutique hotel that's also known by those in the biz as 'the impossible build' thanks to the rather unusual challenges they faced. Landlocked on three sides and with busy Elizabeth Street out the front, traditional construction methods were off the table so they decided to build the hotel from the inside out.
Sydney based Alessi Design + Build constructed most of the hotel offsite and then pieced it together like a jigsaw puzzle with cranes. The hotel is entirely built out of carbon negative, cross laminted timber (CLT) and created zero waste during construction making it one of the most sustainably built hotels around.
Knowing the challenges they faced made me smile as I saw the exposed timber in the lift shaft and stairways, where it still smells like freshly cut wood too.
202 Elizabeth is adults only and pet friendly, which means while fur babies are allowed, human ones need to wait until they're 16 years and over.
Every room comes with a king sized bed, a complimentary mini bar with organic soft drinks and snacks, a rain shower with Hunter Lab amenities and striking wallpaper by Kingdom Home Design including roses, pineapples and palm frond designs.
I was lucky enough to stay in The Lizzy, the 40m2 suite on the top floor where I had not one but two walk in showers beside one another, a bathtub, a living area and loads of design touches I loved, down to the most elegant electric kettle I've ever seen in a hotel room.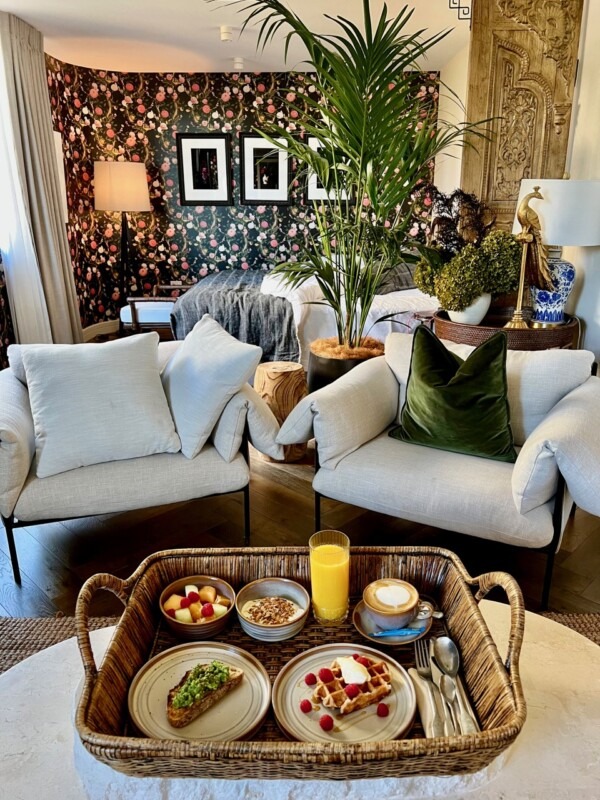 Pet friendly rooms come with balconies and while The Lizzy may be balcony free if I wanted some fresh air I could relax in the courtyard out the back, or on the large rooftop with views over Surry Hills and towards Central Station's clock tower.
202 Elizabeth may not have a restaurant but they can organise a delicious breakfast in bed and you're only a short stroll from some great places to eat in Surry Hills and Thai Town.
Capella Sydney, CBD
A new addition to the Sydney luxury hotel scene, Capella Sydney opened its doors in March 2023 after a seven year restoration and renovation process.
The first Capella hotel in Australia occupies an entire, albeit smaller, city block and is just a short stroll away from Circular Quay and the Opera House. Capella Sydney has transformed the historic Lands and Education Buildings into 192 guestrooms and suites across nine levels, with Italian Frette linen and a bespoke collection of vegan, sustainable in-room amenities designed in partnership with Haeckels.
There's a 20m indoor heated pool and a spa, Sandstone Spa and Fitness Centre, a rooftop harbour lounge, in-house restaurant, and gallery room for private events. The hotel's restaurant Brasserie 1930 has already received two hats from the Good Food Guide and guests can take a more casual dining seat in Aperture in the building's old quadrangle underneath the bespoke kinetic sculpture Meadow by Studio Drift.
Hotel Morris, CBD
Sydney's newest oldest hotel originally opened back in 1929 and almost 100 years later has now been reborn as part of Accor's Handwritten Collection.
The revamped Hotel Morris opened in February 2023 in an Art Deco building that for 34 years claimed the title of Australia's tallest hotel.
There are now 82 rooms in the boutique heritage listed hotel, and day to night dining options downstairs at Bar Morris where Italian inspired dishes can be enjoyed with Italian and Australian wines.
W Sydney, Darling Harbour
The countdown has begun to the day the W Sydney rolls out the welcome mat in October 2023. Part of Sydney's stunning 'The Ribbon' building, the W Sydney will become the anchor to one of Sydney's newest architectural landmarks.
The W Sydney will have 585 rooms, 159 studio and specialty suites, five supreme Wow Suites, and the ultra-luxe Extreme Wow Suite on Level 27. The hotel will come with a two-story rooftop bar and W's signature Living Room Bar, heated indoor and outdoor pools and a state-of-the-art FIT gym.
And with 1300 square meters of event space across eight rooms, as well as floor-to-ceiling windows looking out over the harbour from the Great Room, the W Sydney is bound to become a new hot spot for Sydney events.
Kimpton Margot Sydney , CBD
When the boutique hotel pioneers Kimpton arrived in Australia last year we were among the first to see the Kimpton Margot Sydney.
Every Kimpton hotel has its own unique identity and the Kimpton Margot Sydney is tapping into the artistic women who helped shape the Australian art scene in the 1930s. As well as setting the hotel in one of the city's historic Art Deco buildings, the Kimpton Margot Sydney will also create an immersive art program with an eclectic lineup of local artists.
The Kimpton Margot Sydney features 172 luxury rooms and suites, a range of culinary experiences by one of Australia's top chefs, Luke Mangan, a rooftop swimming pool, in-styled event spaces, and other hotel hallmarks.
Guests are treated to complimentary drinks in the bar from 5-6pm every night, can explore Sydney on two wheels on free Lekker bikes, and there's no extra cost if you'd like to bring a four legged friend, with Kimpton's 'if it fits in the lift' hotel pet policy extended to this new Sydney stay.
Even if you're not staying in the hotel we can highly recommend treating yourself to a meal at Luke's Kitchen or a cocktail in the bar. We were lucky enough to be in town for the first Bottomless Brunch and can happily report that every dish in the five course degustation was a hit. And at $85 it's insanely good value, especially when you consider the free flowing sparkling Veuve D'Argent Blanc de Blanc Brut and Triennes Rosé Provence rosé.
For an extra treat, say yes when the bloody Mary trolley and the caviar trolley rolls around. This is one brunch you'll be telling your friends about for weeks.
Aiden Darling Harbour
Set in a landmark 1930s Art Deco building the Aiden Darling Harbour officially opened its doors on the 1st of February 2022, and a couple of days later we were among the very first to stay.
There's a lot to love in this new boutique hotel, including the gorgeous hand painted murals by award-winning artist in residence Jessica Le Clerc.
On our sneak peek at the different room types we were able to see how every mural is different, with each of the artworks beside the bed featuring local native flowers. Those in internal rooms have something different. Rather than a mural on the wall they look out onto the hidden mural, a 25m high rainforest scene that's all the more beautiful on a rainy day.
We also loved the sustainable touches including Moda bottles in the fridge that can be refilled with still or sparkling taps on every floor, and the way the air we were breathing in our room hadn't been shared with other rooms thanks to the hotel's state-of-the-art air-conditioning units and filters.
The Aiden Hotel also gets bonus points for having a steamer in every room, as well as a cupboard full of ironing boards and irons in the hallway for those who prefer to go old school when they tackle creases.
The Wayfarer's Bar & Cafe is a great spot to enjoy a locally brewed beer or a cocktail mixed with local spirits. You can also take the custom bottled cocktails to your room but personally we liked the extra touches in the bar when they added a salt rim and chilli to our Firecracker Margarita.
After opening with 42 guest rooms in February the Aiden will add another 46 rooms from April 2022, with the completed hotel having 88 compact rooms, some with access to an open-air private balcony with harbor and city skyline views. Just in time to become a new place to stay for Vivid Sydney.
Ace Hotel Sydney, Surry Hills
Australia is also about to get its very first Ace Hotel, and as those who've stayed in their properties in other parts of the world know, that's a pretty exciting thing. The Golden Age Group will premiere its first property in Surry Hills in early 2022. True to its brand, Ace Hotel Sydney will reflect the culture, creativity, and energy of Surry Hills with distinct modern craftsmanship and design in collaboration with Flack Studio.
Read: Coachella at the Ace Hotel Palm Springs review
This new Sydney hotel features 264 luxury rooms, a communal lobby, a ground-floor cafe and restaurant, a gym for the health buffs, and a rooftop bar and restaurant looking out over the city.
Crown Towers Sydney, Barangaroo
One of the more controversial new additions to the Sydney skyline, this shiny building literally towers 275m over Barangaroo and Sydney Harbour. Sydney's first six-star hotel features a bespoke blown glass chandelier with 396 crystal clad 'blades' of glass, rich textiles, art installations, and high-end finishes throughout.
Crown Towers Sydney has 349 rooms, 20 villas, and two premium villas, including the two-level top villa. All rooms, suites, and villas come with floor-to-ceiling windows for uninterrupted views.
Crown Towers has 14 restaurants to choose from, a 26th-floor terrace bar, heated infinity pool, spa and massage treatments, a tennis court, and a gym with scenic views.
A by Adina Sydney, CBD
A modern addition to the Sydney CBD hotel scene, the A by Adina Sydney has the city on its doorstep and is just moments away from Australia Square and an easy stroll to the theatre district at Walsh Bay.
The A by Adina offers modern executive suites and private apartments with upscale amenities, round-the-clock staff, and a lovely sky lobby for lounging. Wrap up your day with a swim in the indoor pool or a drink and bite to eat at the in-house bar and restaurants before retiring for the night.
Little National Sydney, CBD
A distinctive mix of Japanese-style accommodation and modern design, the Little National Sydney is found right above Wynyard train station in the center of the city.
The hotel offers a range of snug yet sleek rooms with high ceilings and lots of natural light. Rooms come with super king beds, free WiFi and movies, Appellees Apothecary products, T2 Tea, and a minibar. Get in a workout at the fitness center is by Technogym or sit back with a cocktail in the rooftop bar.
The Little National is a short walk to the Barangaroo and The Rocks, and when you fancy a spot of shopping the Pitt Street Mall is an easy stroll away too.
Crowne Plaza Sydney, Burwood
Once known as the Marsden Hotel, the Crowne Plaza Sydney Burwood has now joined the InterContinental Hotels Group family, adding 90 guest rooms with premium amenities to Sydney's IHG lineup.
There's a rooftop Skye Bar for drinks, an in-house restaurant with a focus on wood-fired and charcoal-roasted fare for meals, and an outdoor pool to cool off in. This new Sydney hotel is nice and close to Burwood Chinatown where you can find more than two dozen hawker-style eateries. And when you want to go into the city you can sit back and relax on the train.
So there we have the new Sydney hotels you need to know for 2023. What's coming next? We look forward to stepping through those doors and sharing it with you.