If you immediately think of the Pacific Highway when you hear someone's doing a Sydney to Brisbane road trip you're not alone. But while that coastal route has a whole lot of memories for a lot of people, for me it's all about going the other way.
The New England Highway is the quieter, inland route that takes you up over the Great Dividing Range, through some pretty spectacular scenery and into country towns and villages that I love.
Some of my earliest memories involve the drive from Glen Innes in the northern tablelands down to Newcastle for family holidays. Over the years I've seen new stretches of road put in place that bypass the towns, which is great when you're in a hurry or a truck driver, but also means some people are blinking and missing some pretty wonderful places along the way.
When I was asked if I wanted to take a new Renault Koleos on a road trip somewhere I immediately said yes, and decided I wanted to hit a road I know very well and to go nice and slowly to see what has changed.
Along the way I found some great new places to eat, shop and stay, including some businesses that opened against the odds in this crazy year.
We're sharing a lot in this story, so if you'd like to jump ahead to one section of the road trip just click below
Now if you really needed to motor you could do a Sydney to Brisbane road trip the New England highway way in one long day. The drive takes around 11 ½ hours and you'd get to see the scenery but not much else.
I highly recommend making the road trip the holiday in itself, so am including some pretty wonderful places to stay along the way.
Ready to pack your bags and hit the road? Let's go.
Sydney to Scone – 282kms
Our journey starts out the same way as that better-known drive to Brissie, heading up the M1. But then just before you get to Newcastle it's time to go slip off to the west and join the New England Highway through the Hunter Valley.
Freeway speeds start to give way to highway roads and the countryside starts to change as you leave the coast behind.
See
A slight detour off the highway will lead you to the Hunter Valley Gardens where you can wander through 14 hectares of gardens waterfalls, statues, murals and more.
You could walk all eight kilometres of pathways, or choose your favourites out of the ten themed gardens, including the Rose Garden,which has more than 150 different varities of rose represented in 35,000 rose bushes, and the Storybook Garden where you can take photos with Alice in Wonderland and nursery rhyme characters.
See the Upper Hunter from above in a hot air balloon, or saddle up for one of Murchessons Horseback Wine & Dine Tours and ride through Wynwood Cellar door's vineyard between tastings, brunch, lunch or dinner.
And speaking of horses, make sure you don't skip around Scone on the highway bypass. Take the exit and go into Australia's horse capital where you can take a happy snap with the Mare and Foal sculpture, before going into the Information Centre to see Big Blue by Nick Adams, another horse sculpture, this time made entirely of blue baling twine.
Taste
When you're travelling through one of Australia's best wine regions, it would be a shame not to slow down and visit a cellar door or two.
With more than 150 wineries and cellar doors you're spoilt for choice, and in the original Pokolbin Church you can try Usher Tinkler's unique mix, while Lisa McGuigan's VAMP Wine Rooms are a sexy blend of fashion, art, music and wine where you can both taste her own creations and some of her favourite drops from around the world.
When it's time to eat, if you've left the highway to explore wine country, Leaves and Fishes is relaxed dining with a focus on seafood, and you can also spend the night in one of their four rooms in The Boathouses.
If you're not ready to take a detour yet, don't worry. One of my favourite spots to stop for brunch or lunch is right there on the New England Highway, at Worn Out Wares in Singleton.
A gorgeous gift shop, florist and café in one, Worn Out Wares uses local fruit, veggies and dairy, and there are lots of gluten-free, vegetarian and vegan options. I love to grab a table in the florist section where the smell of all those flowers is just divine.
There's also no need to leave the highway for a cheese lovers treat in Muswellbrook. At Hunter Belle Cheese you can see their brown Swiss cows and learn about the dairy industry as you look through windows into the factory. And as well as a long list of cheese to try there's a licenced café for breakfast and lunch.
And in Australia's horse capital of Scone an old pub from the 1800s has been reborn as The Thoroughbred, with a gourmet bakery, café and steakhouse with rooms to stay upstairs. While I've yet to try the steak or spend the night, I'm slowly making my way through their cakes and coffee selection as I stop and revive on my road trips down the highway.
Shop
I've already mentioned Worn Out Wares in Singleton which is full of gorgeous treats to buy for yourself or a gift, and just a few doors up is a charity shop that's worth a visit as well.
Dolly's is named after the 1920s mannequin who sits outside the store, and all of the money that's raised in the store goes back into the community. When I last visited I spotted a pair of True Religion jeans for $10, that sadly weren't my size, but I did buy a couple of lovely, brand new jumpers that I've loved wearing since.
Finders Keepers in Muswellbrook is a mix of clothing, gifts and fabrics with a focus on quality products that will last.
And in Scone, Park & Pine on Main Street is a lovely spot for gifts and homewares that opened in February this year.
Owner Shannon makes all of the earrings and some of the accessories in store, and more than half of the things she sells comes from small Australian businesses that she's found in and around Scone and interstate.
Stay
If you're already ready to settle down for the night in the Hunter Valley the VocoKirkton Park is an elegant and modern estate with an indoor pool, spa and sauna.
For a historic farm stay, Corunna Station was once the largest sheep shearing station in the Hunter, and the Country House has five bedrooms and three bathrooms to share with friends.
Meanwhile in Scone, the Russley Rural Retreat B&B has five colourful bedrooms each with their own personality, in a homestead with wrap around verandas, polished floors and high ceilings, with homemade jams, cakes and biscuits to enjoy in the kitchen.
You can either book a single room at Russley or if you're travelling with friends or if just want to splash out on private home that sleeps up to ten all to yourself, can also book the entire house.
Scone to Tamworth – 132km
As you continue your Sydney to Brisbane road trip along the New England highway you'll travel through farmland where racehorses graze behind timber fences before making your way up over the Liverpool Range and onto the Liverpool Plains.
See
Around 20 minutes drive up the highway from Scone you'll see a sign for Burning Mountain, which isn't a reference to a mountain that burned long ago, but one that continues to burn. Underground.
On the Burning Mountain walk you can learn about the fire that's been burning in a coal seam underground for at least 5,500 years, and see how the landscape changes as the fire slowly moves at a rate of about one metre a year.
At Wallabadah the First and Second Fleet Memorial Gardens has eleven garden beds representing the First Fleet ships, with the names of everyone who sailed on them inscribed on stone tablets, and another two gardens for the Second Fleet.
Stone mason and history lover Ray Collins was inspired to create the garden when he discovered he was the descendent of a First Fleet convict and approached ten councils before Liverpool Plains saw the potential in the plan.
In Tamworth the Big Golden Guitar has been a popular happy snap spot for years, and as of January 2020 has a new museum to explore too. Along with the Gallery of the Stars Wax Museum where you can see Smoky Dawson, Slim Dusty and friends, there's now a rather impressive guitar museum.
The guitar museum already has quite a collection with more than 45 guitars including Tommy Emmanuel's first Maton guitar, Brian May's travelling guitar, and signed guitars from Dolly Parton, Kenny Rogers, Keith Urban, The Eagles and KISS' Paul Stanley.
Taste
If you love a good steak the first thing you need to do when planning this road trip is to book a table at Graze at the Willow Tree Inn. And stay the night too if you can (more on that coming up).
Only the best Black Angus steers from the Colly Creek Pastoral Company up the road are selected for the restaurant, which not only has its own dry aging room where the meat is aged for anywhere between 30 days and three months, they have their own in-house butcher. Not to mention a Michelin starred chef since Ben Davies joined the team earlier this year.
When I stayed I met a couple that had driven more than 600km just to have the steak and wrote about it in Escape, and now that I know how good it is I'm adding a stop whenever I can when I'm road tripping along that highway.
When you get to Tamworth the Terrace Café is vegan friendly and has a separate plant based menu. I love their avocado and beetroot hummus smash and they also have butterscotch banana pancakes if you're feeling decadent.
Read: The best time to see Field of Light at Uluru
After a 10-month renovation the Courthouse Hotel reopened its doors in September and has indoor and outdoor dining areas, including a family area with soft play equipment. The Courthouse serves up pub classics and some modern Aussie dining twists, with most of their produce coming from local producers.
And coffee lovers should make a beeline for Camp Grounds. Here the main espresso blend is roasted by Floozy, who support female coffee producers and only use traceable, high quality beans. And if you can't decide which coffee to go for, you can opt for a coffee flight instead.
Shop
Burning Mountain Antiques at Wingen looks pretty big from the outside, and then you step through the front door and realise you could get lost in here for a while. There are all sorts of antiques including crockery, Sterling Silver flatware, jewellery, crystal perfume bottles and character teapots, and the furniture department ranges from antique colonial to their own recycled timber furniture.
Up the road in the eclectic artisan village of Murrurundi the shops include crystals and collectibles in the Emporium in the old post office building, and a mix of new and old clothing, jewellery and gifts including some gorgeous hand-knitted toys made by rural women in Kenya, at Adawn.
In Tamworth Bungalow G is a gorgeous homewares and lifestyle store in a beautiful old vestry. As well as selling what they have in store they provide a sourcing service to help you exactly what you're looking for.
The Magic Pudding has a tempting mix of clothes, accessories and homewares, The Lemon House is a lovely little gift shop, while Dekora has some affordable and fun clothes for women.
Stay
Remember how I said the steaks at the Willow Tree Inn are a special thing? Well I'm here to tell you, so are the beds.
When I first walked into my room I fell in love with the look of the bed. And when I got in I knew it was going to be a very hard one to get out of in the morning.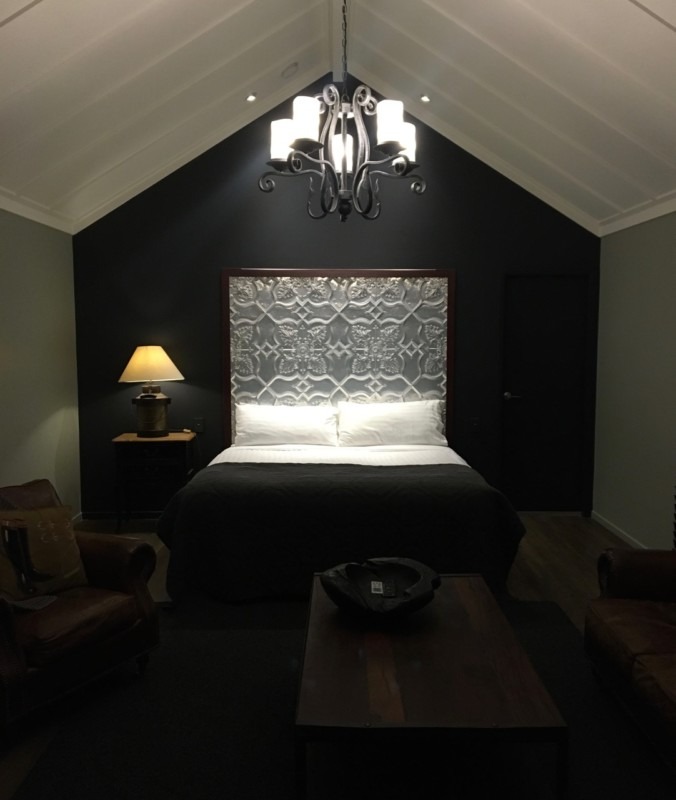 The next day I met the Willow Tree Inn owner Charles Hanna and told him how I loved the way things in my room didn't just look good, they felt good, with special mention to the bed.
And that's when he told me they're the same beds he used to love sleeping on in a little hotel called the Beverly Wilshire on Rodeo Drive. Yes, the one from Pretty Woman.
When he decided to open his own hotel he checked the name on the mattress, called the company, and became one of the first in Australia to have those same beds for his guests.
A bed I haven't slept in yet, but is very high on my wish list, is at Goonoo Goonoo Station, the 19th century heritage listed pastoral village that has been turned into luxury accommodation outside of Tamworth.
Meanwhile on Goonoo Goonoo road, the hidden gem of Studio 367 offers two architecturally designed boutique studios that open out onto gardens on a two-acre property.
Tamworth to Armidale – 113km
As we leave Australia's country music capital behind you'll see some mountains in the distance. Mountains you'll soon be weaving your way up as you start to explore the northern tablelands.
The Moonbi Range rises from around 500 to 1,300m above sea level, and if you get stuck behind a truck just think that this is one to drive up slowly and enjoy the view and those huge boulders on the side of the road.
See
Up here on the tablelands you feel the four distinct seasons all the better, and in autumn those colours are so pretty there's an Autumn Festival and Twilight Markets in Armidale in April.
The Gostwyck Chapel, 11km east of Uralla is one of the prettiest spots to visit when those autumn colours are out.
Uralla is also where you can see the grave of the 'gentleman bushranger' Thunderbolt. I'm not sure how he'd feel about ending up behind a white picket fence, but that's where you'll find him in the local cemetery.
A half hour drive out of Armidale will lead you to the Wollomombi Falls, which at more than 220m are the highest in NSW. And if you love waterfalls, I've created another road trip guide for the Waterfall Way for Visit NSW. That's another one of my all time favourite drives, but for now, back to our Sydney to Brisbane road trip fun.
Standing on a platform on the edge of a cliff looking out over one of Australia's biggest gorge systems feels pretty amazing. To take it up to a whole other level you can take a doors on or doors off helicopter over the gorges with Fleet Adventures.
On my adrenalin pumping doors off flight I was blown away by the dramatic beauty of the gorges and the waterfalls, and looked down at brumbies, eagles, and a big beautiful heart shaped island created by two rivers in the valley below.
Back on solid ground, the 30 room Edwardian mansion, Saumarez Homestead dates back to 1888 and has a heritage rose garden with more than 600 roses that were mostly bred before 1930.
And the New England Regional Art Museum (NERAM), is home to one of the most impressive art collections in Australia. The Hinton Art Collection includes works by Arthur Streeton, Margaret Preston, Norman Lindsay and other Australian greats, with 132 pieces on permanent display.
Taste
If you're a craft beer lover your first stop should be in Uralla where the Old Woolstore has been turned into the New England Brewing Company. Here they have year round ales, lagers and a hop cannon IPA to try, and this year's seasonal brews included a Pecan Milk Coffee Stout.
Then when you reach Armidale it's off to the Welder's Dog where the beer tasting paddle options also include a ginger beer and a pretty pink pea-blossom lemonade.
Just off the New England Highway in the tiny village of Kentucky you'll find some of the best gin produced anywhere in the world at Dobson's Distillery.
That's not my opinion, that's according to the judges at San Francisco Spirits World Cup who awarded Dobson's New England Dry Gin a double gold, as well as giving his Le Caf liqueur a silver medal and the Belle Epoque Single Malt Whiskey the bronze. Decide on your designated driver before you pull up a seat at his 'steampunk with a prohibition vibe' micro distillery to sample his wares.
If you're like me and love a good cup of tea, Daily Ritual in Armidaleis a must. There are over 200 leaf teas including the New England Breakfast that won the bronze in the 2017 International Tea Expo, while their Saumarez Smooth green tea with lime petals and lemongrass is among their other award winning blends.
The Whitebull Hotel is my go-to for a great pub meal in Armidale, while if you're in more of a fine dining mood the Tattersalls Hotel's restaurant is led by French chef Jean-Luc Morcellet who previously worked at The Savoy in London and the Shangri-La in Doha.
Charlie's Last Stand is the place to be for seasonal or classic cocktails with live music, while breakfast, lunch and dinner are all winners at the Goldfish Bowl Bakery where the exposed brick wood fired oven keeps the organic sourdough coming.
Shop
The New England highway goes straight through the main street of Uralla so you just need to slow down and find a park to explore the shops in this small town.
Highland Living is a lovely homewares and accessories store that has pure merino clothing made from Uralla wool alongside handbags from Italy.
Just off the main shopping street on Hill Street, Little Birdy is a treasure trove of antiques, collectables and handmade local products, with more than 30 small businesses together in an old aircraft hangar.
In Armidale, The New England Collective is one of my favourite places to find locally made gifts and treats.
And just across the Beardy Street Mall is a magical little shop called Granny Fi's Toy Cupboard where they hand make dragons, goblins, mandrakes, house elves, and more. As well as being a must for Harry Potter fans it also has a great Dr Who collection and if you can't make it there in person they also sell online.
Stay
I recently got to take a peek inside Armidale's Tattersalls Hotel and am now planning a staycation just so I can spend the night there.
After a $24 million refurbishment the Tattersalls Hotel is now Art Deco luxury right in the heart of town.
And for a special B&B stay, I loved spending the night at Loloma Luxury Bed and Breakfast. This 19th century home has two suites, a tennis court and pool and a lovely light and bright breakfast area to start your day in.
Armidale to Tenterfield – 187km
Remember how I mentioned I'd seen a lot of Sydney to Brisbane road trip changes over the years? Well one major one is being built right now and while you may have to wait a little while for the roadworks traffic light to go your way, it's a pretty cool thing to see.
The $133 million Bolivia Hill upgrade will become a 320m cantilever bridge but for now you can see sections of the bridge being built out from the piers, with massive drops off the end.
This time last year they said it would be finished by the end of 2020, but after driving past it last week I can confirm that it's not even remotely close, and new estimates have it finished in the second half of next year.
Bolivia Hill is around 30km south of Tenterfield so you'll see it on the final stretch of this bit, and if you're in the passenger seat you may want to have your phone or camera ready to snap a shot of the bridge in progress as you go by.
See
The Celtic Capital of Australia, Glen Innes is home to Australia's Standing Stones, which were inspired by the Ring of Brodgar in Scotland's Orkney Islands and when viewed from above also includes the Celtic Cross and the Southern Cross.
The 24 stones have been laid out as a calendar and there's marker on the ground that shows the length of the shadow on the shortest and longest days of the year, the winter and summer solstice, when dawn services are held at the stones.
If you're in Glen Innes on a Friday you'll also be able to hear the sounds of bagpipes filling the main street at midday as a piper stands in front of the Town Hall where all the Celtic flags proudly fly alongside the Australian and Aboriginal flags.
This corner of Australia is one of the best for finding royal blue sapphires, emeralds, aquamarines, citrine, topaz and a whole lot more. In NSW anyone can fossick without a license and if you pop into the Glen Innes Tourist Information Centre they can share some of the best places to try your luck and rent out a fossicking sieve to help you on your way.
If you like looking at crystals and other pretty rocks add a side trip to the village of Emmaville to your itinerary. The Emmaville mining museum has more than 4,000 gem and mineral specimens to admire, and a pretty impressive old bottle collection too.
In Tenterfield Peter Allen fans can visit the one and only Tenterfield Saddler. The late George Woolnough's building is now part museum, part gift shop and a whole lot of memories.
The 20-inch thick granite walls now hold an autographed copy of the record that made it famous, and the rooms hold a mix of leatherwork and Peter Allen memorabilia, including his bright red size 14 tap shoes.
The Tenterfield Railway Museum is another top thing to do in Tenterfield, with an impressive collection of trains and memorabilia in the beautiful old station that dates back to 1886.
And just 20 minutes outside of Tenterfield you can climb the largest granite monolith in the Southern Hemisphere.
Bald Rock is 750m long, 500m wide and rises around 200m above the ground (that's 1277m above sea level). There's an easy and a hard way to go, and even if you want to go hard, make sure to take the easy way at least one of the ways so you can walk through giant boulders and see another side of the Bald Rock National Park.
Taste
As a Glen Innes local I can confirm that The Local Glen Innes is a pretty great place to be. This new addition to town came about after owners Pete and Kate Lynn came to Glen to self isolate after their honeymoon, and then decided they didn't want to leave.
Head chef Tom Robinson works with locally grown ingredients to create dishes that keep me coming back, like those crazy hotcakes below, and The Local has started doing special degustation dinners on top of their breakfast and lunch services.
For a delicious pub meal you can't go past the Railway Tavern in Glen Innes, and if you're craving a great Thai fix Yim Thai at the New England Club is the place to be.
As you continue up the highway the tiny town of Deepwater is an unexpected spot for great brewery, but just off the highway you'll find the cellar door for Deepwater Brewing. Their 'brewed with altitude' creations include lagers, stouts, kölshs, IPAs and more, and they have some unusual options for your tasting paddle too including their Orange is the New Black chocolate and orange infused dark stout.
A bit of a detour off the highway will take you to the village of Torrington where 2WildSouls are turning honey from native trees and spring water filtered through granite into five varieties of sparkling mead. Their cellar door is by appointment only, but you can also pick up their sparkling mead in local bottle shops.
Shop
At The Makers Shed in Glen Innes you can find handmade creations from silversmith Richard Moon, can speak to him about having a bespoke piece created, or join one of his silversmithing workshops and learn how to make your own.
Along with Richard's creations the Makers Shed is full of handmade local products and local art, and there's a bookshop section stocking indie books from around the world, including works by Richard's partner Michael Burge. Every spring The Makers Shed hosts the High Country Writers Festival, with next year's event to take place on the 16th of October 2021.
Down the other end of Grey Street in Glen Innes, The Sage and Clover is a store full of lovingly curated organic, local, chemical free and ethical products.
Tenterfield has some beautiful shops to explore including Ruben and Flax and The Corner Life & Style Store which you can easily find as you walk the main street.
But what you might not realise is if you go inside the Mitre 10 and up the stairs you'll find Make It Tenterfield, a not for profit Maker's space where a wonderful mix of handcrafted items from eco-dyed fashions and ceramics to art dolls can be found.
And if you love antiques and flowers you can't miss one of Tenterfield's gems. White Cottage has a beautiful English style garden and a glasshouse filled with flowers and antiques.
Stay
At Waterloo Station outside Glen Innes there are a number of beautiful ways to stay including their homestead itself and the renovated Shearers Lodge which now comes with a modern kitchen and a huge stone fireplace. It also happens to be the site of an old sapphire mine, and you can take the fossicking equipment that's provided down to the creek for some finders keepers fun.
In Tenterfield the Old Council Chambers has transformed one of Tenterfield's most historic buildings into two self-contained luxury suites. I've had a lot of baths around the world but I've never stepped through a huge strongroom door before I slipped into the tub and this bath is definitely one of my all time greats.
The Commercial Boutique Hotel is a gorgeous art deco getaway in an historic pub. When the current owners renovated the hotel they turned the existing 18 rooms into just eight luxury rooms and gave the wine bar and restaurant a beautiful makeover too.
And for a special B&B stay, the Bungalow and Ivy Leaf Chapel is a beautiful 1915 home with one and a half acres of stunning gardens, including its very own chapel covered in Boston Ivy.
Just up the road from Tenterfield at Wallangarra you'll be crossing the Queensland border and will then be on the Queensland half of this trip.
What happens then? Stay tuned for Part Two of your Sydney to Brisbane road trip
Thank you Renault Australia for getting me back out on a favourite road in Koleos Intens style.
And thank you to Destination NSW for the use of some images, including the one driving through the poplar trees at the top of this story. A gorgeous capture of one of my favourite parts of the highway.