For many who work in the city of Sydney, the QVB is something they walk past, or under, or through almost every day. For tourists, it's a pretty building with nice shops. But there's more to this old dame than meets the eye.
After years of using her as a thoroughfare myself, I've recently started exploring her upper levels again, and gained a new appreciation for how beautiful the Queen Victoria Building is. And I've found some curious things along the way.
The other day I decided I'd learn a bit more about the QVB, and so I went to the information desk to get a pamphlet before I wandered around. And that's when I noticed a flyer about the guided tours they have. (I know! I didn't realize they did them either). And as luck would have it the tour was starting in five minutes' time.
So you can see where this is going. Spending a few minutes pottering around before meeting a friend for lunch all of a sudden became taking a fascinating tour of a building I've come to love.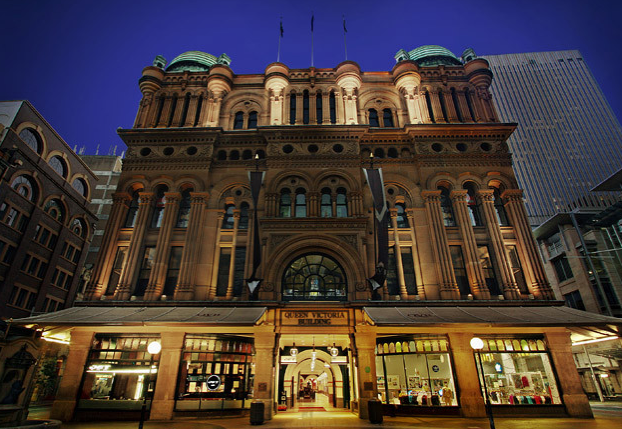 And yes, it was fascinating. Our tour guide Janet, who is lovely and warm and really knows how to paint a picture, took us through the history of the Queen Victoria Building and pointed out things I'd seen, but never really understood along the way.
For instance, the slightly sloping floor on the ground level. I'd seen that in the past but never really understood it. If you stand slightly north of the centre of the building, and look lengthways down towards south, you'll see a slight tilt to the floor, heading towards the Hilton.
That's because back when the architect George McRae designed the building there was a slope there, so he kept it. Well, not quite… though there was a natural slope at the time.
It was more because it was so it was easier to roll barrels and carts around. Much better than having steps that people would have to try to negotiate. And that's something I'm sure people in wheelchairs and women with strollers are happy about to this day.
There's another theory that it made it easier to hose the place out when it got messy, after horses came around to the York Street side of the building to catch a lift down into the basement to make their deliveries. Those were the days.
It was also interesting to discover that Sydney was in a severe recession at the time the Queen Victoria Building was built back in 1893. A rather grand creation for the government to give the green light to in the down times, but there was method to the madness.
By deciding to create such a large Romanesque building the government created jobs for out of work stonemasons, stained window artists, and all sorts of tradespeople.
So they built this impressive establishment, which takes up a full city block, between George, Market, York and Druitt streets, and they turned it into a concert hall, with offices and showrooms and mixed businesses under the one, glamorous roof.
Over the years, the old girl has had her ups and downs. In fact, they wanted to rip her down more than once, and I for one am so glad she's still up.
Mind you, the only reason the QVB is still with us and looks the way she does is because a Malaysian company stepped in and saved her. In 1980 her future was looking a bit dodgy again, and Sydney City Council asked for submissions for her restoration.
The Malaysian company Ipoh Ltd came up with a restoration scheme, and in 1983 the council granted them a 99 year lease in return for the work.
There aren't many signs that it's now owned / leased by a Malasyian company, unless you know where to look. For instance, in the beautiful stained glass window facing the Hilton, there are three panels, and one has the letters I.G.B which stands for Ipoh Gardens Berhad.
And in case you're thinking how cheeky of them to replace a panel in such an old, beautiful window with their own initials… the entire cartwheel stained glass window had to be replaced after it was destroyed by the Hilton bombing in 1978.
I could go on and on about the interesting things to watch out for in the QVB. Such as how the statue of Queen Victoria out the front is a relatively recent addition, or the time capsule our current Queen has had put in the building to be opened in the year 2085 (see you all there).
But I'd rather leave some of the fun stuff to be discovered when you go on your own tour.
So how can you do that? I'm glad you asked.
The Queen Victoria Building Tours:
Take place every Tuesday, Thursday and Saturday at 11.30am. Meet at the concierge on the ground floor (underneath the main dome).
Tours cost $15, are approximately 45 minutes, and while stocks last, you also get a souvenir – a green, waterproof QVB bag made by the same company that creates the Harrods green bags that so many bring back from London. It's also a great thing to do in Sydney on a rainy day.
You can usually turn up on the day but to make sure there's room, you can book ahead by calling the QVB Concierge on 02 9264 9209.
So go, enjoy learning a few new things about that building you've seen all these years. And say hello to the ghost for me. He sounds like he was a pretty amazing guy.
Looking for more fun Sydney ideas? Check out my list of 20 great tours and things to do in Sydney for every budget.