The first time you see someone lean into a decorative fountain in Zurich, open their mouth and drink the water straight from the statue of a fish or some other creature, it's a strange sight. You may think they're risking a very upset stomach with such a move, but there's no need for concern as Zurich is not your average city.
There are more than 1200 fountains around Zurich gushing the sort of clean spring water that's bottled and sold to other parts of the world. Some of them may look like old statues with a water feature, but apart from a few fountains marked with the words Kein Trinkwasser/ Eau non potable/ Non potable you can drink from them all.
As someone who hates plastic water bottle waste and is always googling whether the tap water is safe to drink in the place I'm visiting, this is pretty great stuff.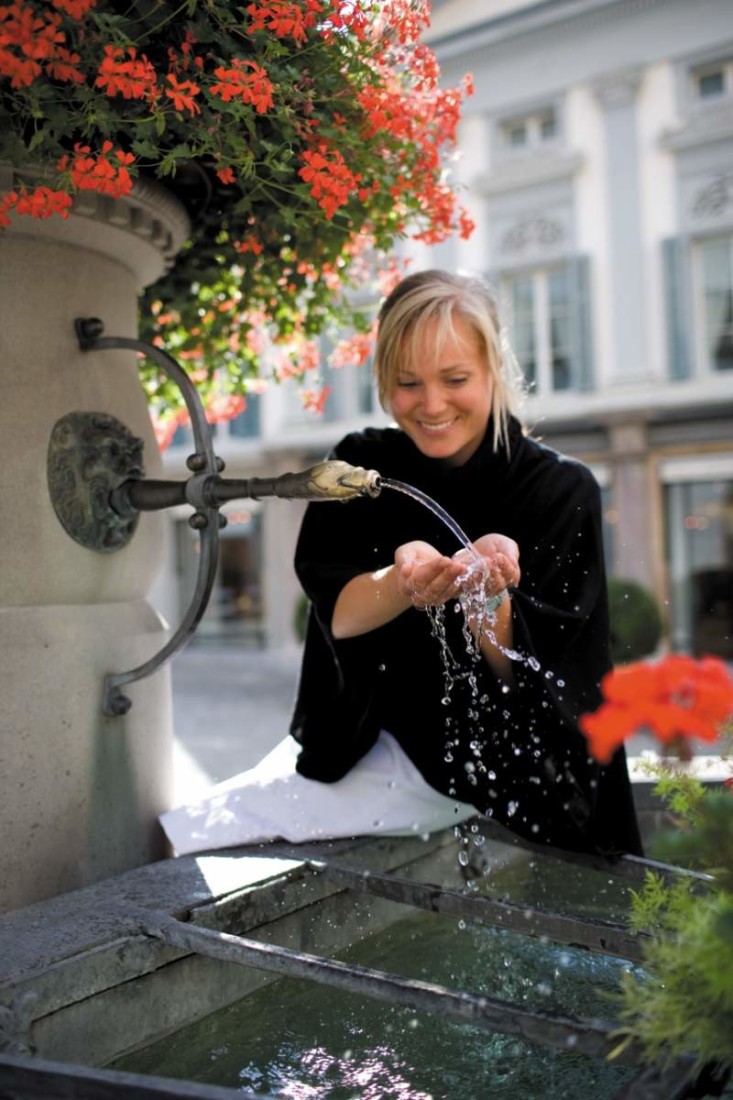 The free flowing fresh water is a lovely feature in a city built around a beautiful lake and river, with the snow capped Swiss Alps as a backdrop.
But I'll confess that I didn't realise I could drink from pretty much any fountain around me until I saw a sweet welcome gift in my hotel room.
One of the Small Luxury Hotels of the World, the Ambassador à l'Opéra, had left one of their refillable water bottles in my room with a note on a card explaining the way the fountains were used in Zurich.
Once I knew that handy piece of information, that bottle went everywhere with me.
We walked along the lake and river, wandered through cobblestone streets, visited museums, and headed out on a Switzerland Mountains, Cheese and Chocolate Tour together.
And back at the hotel I could fill it and take it up to the rooftop to watch the sun set and drink in the beautiful views over the lake along with my fresh water.
The fact that the Ambassador à l'Opéra was just metres from the shore of Lake Zurich, right beside the Opera House and in a vibrant theatre and shopping area, meant I could happily potter around for hours.
I loved the way they even have their own cow, which produces the milk for the cheese in their breakfast buffet (out in the fields that is, not on the hotel rooftop of anything crazy), and how after breakfast is cleared away the hotel's Opera Restaurant is transformed into one of Zurich's best fish restaurants.
I know some people travelling through Europe who have only seen the inside of Zurich's airport as they changed planes, which is a real shame.
If you're one of those people, take a couple of days out the next time you're passing through to see the sights, breathe that fresh mountain air and of course drink out of a fountain.
Amanda Woods stayed as a guest of Hotel Ambassador à l'Opéra, a member of Small Luxury Hotels of the World.
Visit My Switzerland for more travel ideas and tips in Zurich and beyond.