Summer is well and truly here (hurrah!) and it's a time when I love to catch up with friends both at home and from around the world who come on down to Australia for some fun in the sun.
Over the years I've shared all sorts of Sydney tips with friends, from gorgeous walks you can do with killer Sydney views along with some things you can do in Sydney on a rainy day when the harbour city's weather turns on a dime and shows off its stormy side.
As I also have some rather fabulous friends from around the world who have wondered where the best gay friendly beaches may be, I've put together a bit of a list of those as well.
So if you're wondering the same on your visit this summer, grab the sunscreen and try one of these hot sandy spots around town.
North Bondi Beach
Let's kick off with the one you already know – Bondi Beach. It's famous for a reason, and if you're not already staying there it's worth popping on down at least once if you're visiting from out of town.
And when you do, North Bondi is the place to be. It's the best part to swim in as it's sheltered by the headland and has smaller waves, and it's particularly popular with boys and boys who like boys.
Don't be surprised if you bump into someone you met at a party on the other side of the world splashing out of the surf. This is a place where people like to see and be seen, and yes, there's plenty to see.
Tamarama
Another must when you're in Sydney is the Bondi to Bronte walk, which would have to be the most famous walking track in the city.
The perfect way to get some fresh air and admire some of the locals, you can do this walk at any time of year but in the warmer months make sure you fit in a little Tamarama break.
Nestled between Bronte and Bondi, Tamarama or "Glama-rama" as it's sometimes known, is a stunning little spot where you can often spot stunners.
It's the perfect pit stop on your coastal walk, or a great place to just laze away an afternoon.
Just careful of rips, as they're particularly nasty here. In fact, Surf Lifesaving Sydney says Tamarama is the most dangerous patrolled beach in New South Wales, with more rescues per thousand bathers here than anywhere else.
If you're not a strong swimmer, it may be best to just enjoy the view at this one and save the swim for when you complete your walk.
Lady Bay
For those who like to let it all hang out, Lady Bay (that's bay, not boy), is one of Sydney's original nude beaches.
Also known as Lady Jane Beach, this small but special space has been attracting au naturel bathers since long before it officially became legal in the seventies.
Lady Bay is found just around the corner from the Watson's Bay Hotel, where you'll find a great pub for a fish and chips treat when you put your kit back on.
Catch a ferry over from Circular Quay so you can also sink a couple of cold beers at the end of the day, but be sure to find out when the last ferry leaves or risk a rather expensive taxi ride back to the city.
Obelisk Beach
Obelisk beach is another popular 'clothing optional' and gay-friendly beach but can be tricky to get to. Found at the southern end of the National Park of Middle Head, you can make your way there by car, or for a more glamorous option get your friends together for a day and all pitch in to hire a catamaran to take you around the harbour.
That way not only can you visit Obelisk and more to splash around, you can also watch the sun go down over the Harbour from the water, which is a memory you'll never forget.
One word of warning though, nudity is only allowed on the beach and rangers do patrol the area, so it's best to obey the posted signs.
Little Congwong Beach, La Perouse
While not a designated nude sunbathing area, this is another sandy spot where you may see more bare skin than the average beach. As the name suggests, Little Congwong is small and sweet, and it attracts a mix of young and old, gay and straight, singles, couples and families.
It may only be 14 kilometres from Sydney's CBD but it feels like you're a million miles away. If you're coming from the city just hop on the express L94 bus from Circular Quay, get off at La Perouse and get a local to point you in the right direction. Just make sure you don't get confused and stop at the "big" Congwong; keep moving until you find that little oasis.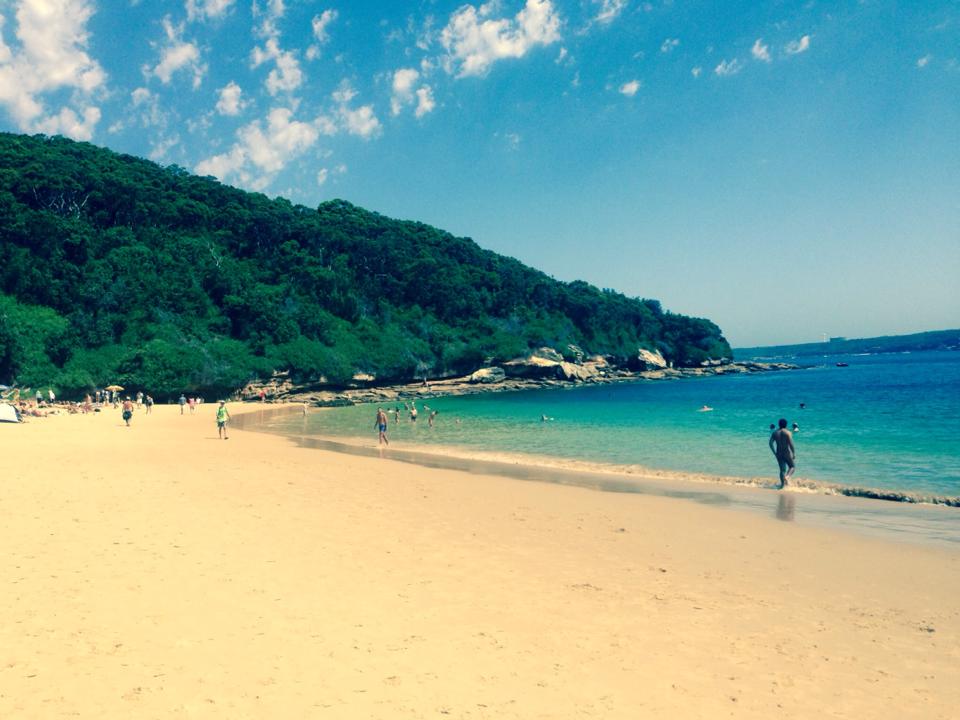 Redleaf Beach, Murray Rose Pool
Back closer to the city, Redleaf is a top tip from those boys who love the beach but also like to get away from seeing the same old faces.
Found nestled in Double Bay, Redleaf has Harbour Bridge views, and a harbour side tidal pool (the Murray Rose Pool, formerly known as Redleaf Pool).
Walk around the pontoon, grab a bite to eat at the cute café on the hill, and feel the serenity.
Boy Charlton Pool
Yes, well spotted! This is not a beach. It's a pool. Which means I can cheat and throw it in as a sneaky number seven.
For those who like splashing in water beside water, but don't like getting sand everywhere or stifling squeals when something brushes against their leg, Boy Charlton pool is another great option.
Simple but stunning, Boy Charlton is built straight onto the water at the foot of the Botanic Gardens, just five minutes from the CBD.
After your swim, take a walk around Mrs Macquarie's Chair and through the Botanic Gardens for one perfect postcard scene after another.
But no matter which beach or pool you end up on, remember to slap on lots of sunscreen. Our Aussie sun has more bite than you may be used to at home, and the only glow you should have at the end of the day is one of romance.
So do tell… how did I go? Did I manage to get one of your favourites or miss yours by a mile? Everyone has their own favourite Sydney beach, so do feel free to share your own hot tip for a beautiful beach in the comments below.
And don't worry if the grey skies come out, there are lots of fun things to do in Sydney in the rain including a Priscilla moment or two.